Doing strength training may actually help boost your health issues rather than worsening it.
For instance, picking up weights can help hinder the progression of MS by reducing brain shrinkage.
Weight lifting can also increase your mobility, ease low back pain, and cure you physically and mentally.
---
If you have been diagnosed with low back pain, Parkinson's, or COPD, you may think of staying in bed to get better. But it turns out that strength training, such as weightlifting or doing pushups, may actually stop your condition from getting worse.
Read on to learn how strength training can help take care of your health.
1. Lessen fatigue in multiple sclerosis
In MS, an estimated 80 percent of people experience symptoms including  fatigue, bladder control issues, difficulties in balance, and limb tingling.
Picking up weights can manage your symptoms, according to a study in the Multiple Sclerosis Journal. Participants who engaged in progressive resistance training for six months faced favorable brain changes that could stop the progression of the disease.
While drugs can be used to treat brain shrinkage in MS, Ulrik Dalgas of Aarhus University in Denmark said smaller parts of the brain respond to training and actually start growing.
2. Relieve low back pain
Rather than resting to ease discomfort in low back pain, you should move.
Per a BMJ Open Sport & Exercise Medicine published study, low back pain sufferers experienced 72 percent lower pain and 76 percent less disability after undergoing a 16-week free-weight training session.
3. Boost mobility in Parkinson's
According to a 2017 Italian review that involved 13 trials determining the role of strength training in the neurodegenerative movement disorder, physical symptoms and quality of life can be enhanced by these activities.
However, further studies are recommended to know if strength training is indeed the preferred activity over others.
4. Lower bone loss in osteopenia
Experts suggest that doing load-bearing exercises that range from jumping to jogging combined with strength training can build strong bones through life.
A 16-year study in the journal Bone followed women with osteopenia — bone loss occurring before osteoporosis — who underwent an exercise regimen that included using free weights and elastic bands twice weekly. Results showed an increased bone mineral density.
The study also recommended that sticking to an exercise routine helps in preserving bone mass.
5. Promotes fitness in heart disease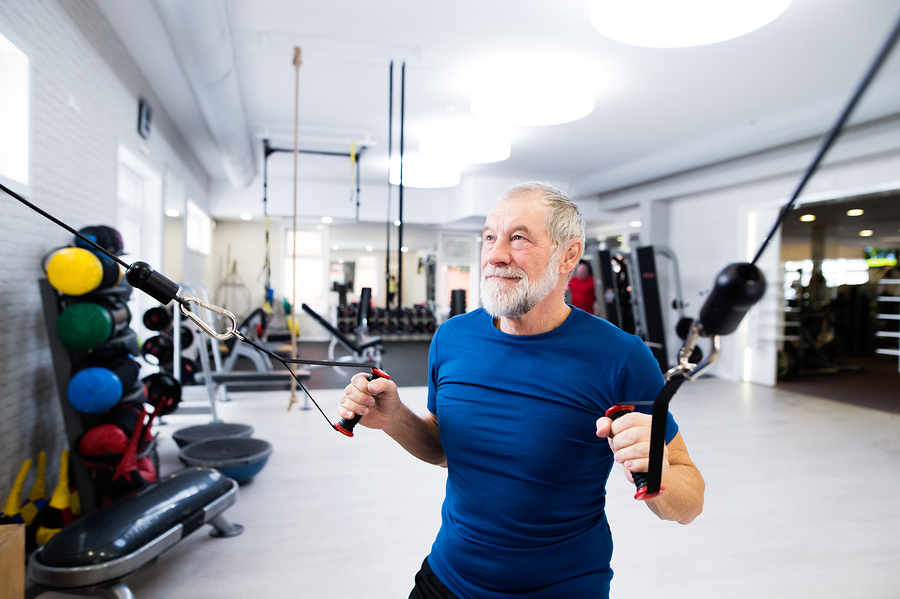 The American Heart Association recommends 30 minutes of moderate activity five days weekly to prevent heart disease. If you already have heart disease, it's still important to exercise.
A 2017 study in the European Journal of Preventive Cardiology that analyzed 34 studies suggested that resistance training improved aerobic fitness while boosting upper and lower body strength.
6. Improved breathing in COPD
Chronic obstructive pulmonary disease (COPD) is an incurable condition characterized by breathing difficulties. While avoiding the gym seems the safest option, it may actually cause weakness and a lower quality of life.
According to a 2017 study, COPD patients who performed strength training 30 minutes per session thrice weekly, experienced better muscle strength unlike those who only received medical treatments. 
7. Improve blood sugar in type 2 diabetes
The American Diabetes Association explains that strength training makes your body more sensitive to controlling insulin. In addition, it also helps build muscle which burns more calories as well as helps manage glucose, says a study published in Nutrition & Metabolism.
Overall, both resistance and aerobic exercise provide the body the well-rounded routine you need.
8. Lowering anxiety
Exercise is a popular stress buster and can help people suffering from anxiety.
A study in Frontiers Psychology suggests that the most effective resistance exercise in reducing anxiety is doing bouts of max-lifting the heaviest weight you can for one rep.
It appears that strength training can bring down the levels of the stress hormone cortisol, signaling your stress system to ease up.
Source: THE Healthy